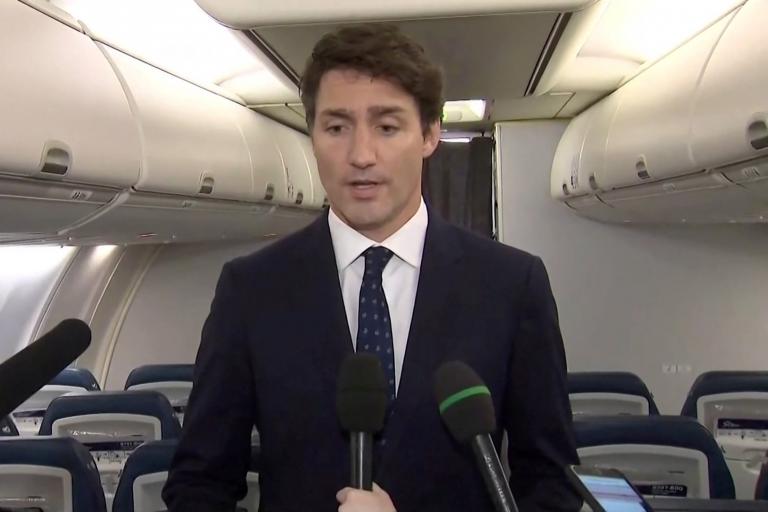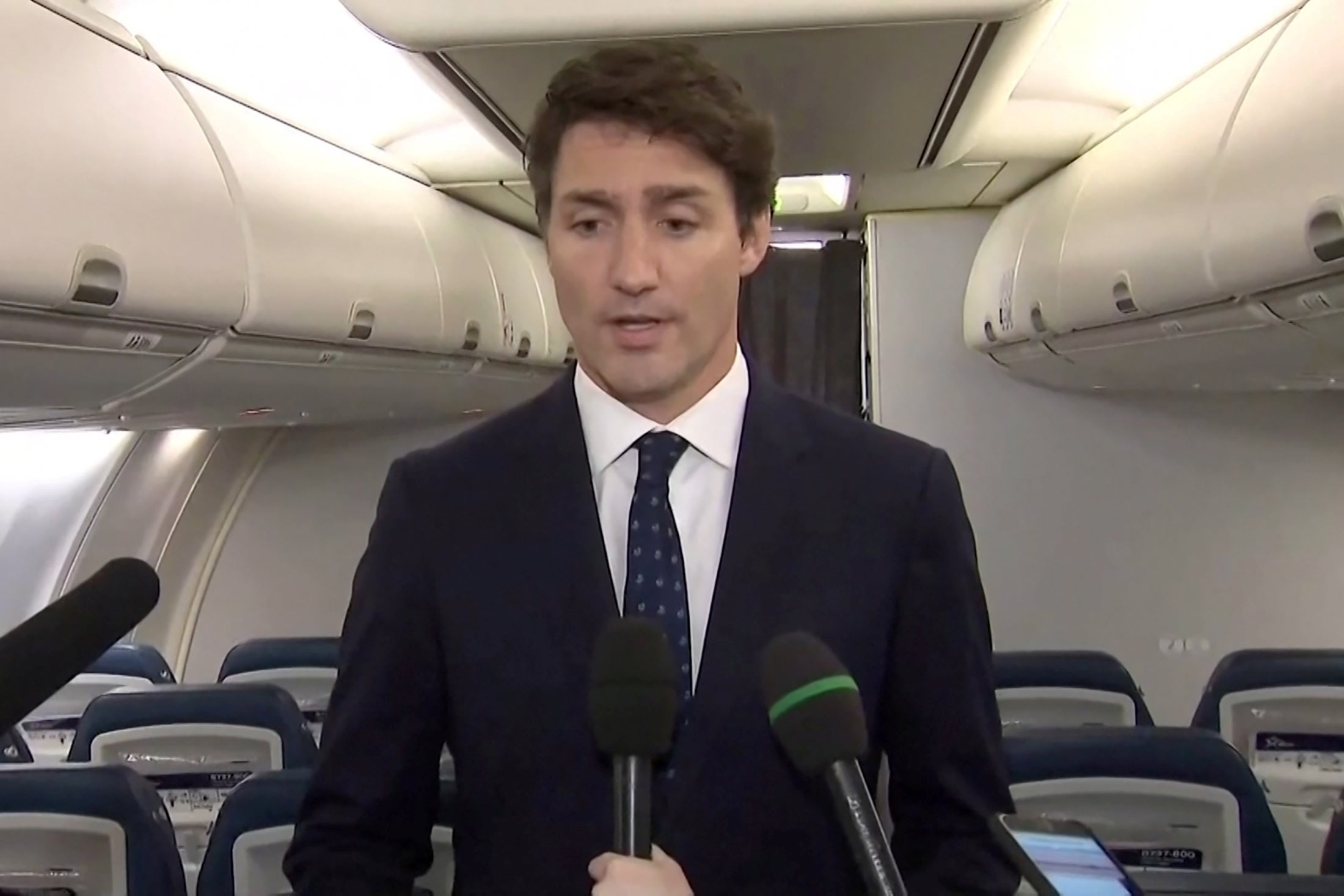 The Canadian prime minister Justin Trudeau has admitted to wearing brownface makeup during a 2001 event at a school where he was teaching, saying it is something he "regret[s] deeply".
Mr Trudeau, who is campaigning for re-election on 21 October, told reporters he "didn't think [it] was racist at the time… but now I recognise it was something racist to do".
A yearbook photo of the incident, published by Time magazine, shows a 29-year-old Trudeau wearing a turban and robe, with dark makeup on his hands, face and neck.
Mr Trudeau said it was taken during an "Arabian Nights"-themed gala at West Point Grey Academy, a private school in British Columbia where he worked as a teacher before he entered politics.
The publication of the photo came between stops on the prime minister's re-election campaign, in which opinion polls suggest his Liberal party faces a tough battle.
Addressing the matter to reporters on his campaign jet, Mr Trudeau also admitted this was not the first such incident in his pre-political past.
Asked if it was the only time he had "ever done something like this", the prime minister replied: "When I was in high school I dressed up at a talent show and sang 'Day O' (a traditional Jamaican song about people loading bananas onto boats) with make-up on."
The political reaction to the Time article has been swift. Andrew Scheer, leader of Mr Trudeau's closest rivals the Conservatives, said that "what Canadians saw this evening is someone with a complete lack of judgment and integrity and someone who's not fit to govern this country".
Jagmeet Singh, leader of the third-polling New Democrat party, is a Sikh man who wears a turban. He told reporters: "Seeing this image today, the kids that see this image, the people who see this image, are going to think about all the times in their life that they were made fun of, that they were hurt, that they were hit, that they were insulted, that they were made to feel less because of who they are."
The Green party leader Elizabeth May said Mr Trudeau "must apologise for the harm done and commit to learning and appreciating the requirement to model social justice leadership at all levels of government". "In this matter he has failed," she said.
Mr Trudeau has won many admirers around the world for his progressive politics at a time when the US has taken a step in the opposite direction under Donald Trump. Canada has been praised for taking in more refugees than its more populous southern neighbour. 
And citing the prime minister's firm grip on identity politics in Canada, People's Party leader Maxime Bernier said the Liberals had "just spent months accusing everyone of being white supremacists". "He (Trudeau) is definitely the biggest hypocrite in the country," she said.
The Liberals are currently polling on 34.2 per cent, according to CBC's latest poll of polls, marginally behind the Conservatives on 34.4 per cent. The New Democrats are a distant third on 13.5 per cent.
Mr Trudeau's personal approval ratings could ill afford another scandal. He is still seen as reeling from the revelation earlier this year that he improperly pressured his then-attorney general into dropping a criminal prosecution against a company in Quebec. Mr Trudeau said at the time that he was standing up for jobs, but the scandal – one of the biggest in Canadian political history – rocked the government and led to a number of resignations.
There have been several recent blackface or brownface scandals in North American politics – but all over the border in the US.
Earlier this year, the Virginia Governor Ralph Northam faced intense pressure to resign after a racist picture surfaced from his 1984 medical school yearbook page. He denied being in that picture, but admitted wearing blackface as a young man while portraying Michael Jackson at a dance party in the 1980s.
Since then, Virginia Attorney General Mark Herring has acknowledged wearing blackface in college, and Alabama Governor Kay Ivey has apologised for donning blackface during a college skit more than 50 years ago. None has resigned.
How the scandal will affect Trudeau's campaign remains in question, said Nelson Wiseman, a political science professor at the University of Toronto. He said he didn't think the photo's release would cause people to vote differently, with race and blackface playing a much bigger role in US politics than in Canada.
"I don't think this will swing the vote, although the story will get a lot of media play for a couple of days," Wiseman said. "The Liberals may very well lose the election — they almost certainly will not do as well as in 2015 — but this is not the type of scandal that will drive voters to the Conservatives."
Mr Trudeau, who was swift to come out and apologise after the photo emerged late on Wednesday, said he would talk to his children in the morning about taking responsibility. 
Trudeau's reaction – what he said
"In 2001, I was teaching in Vancouver and attended an end of year gala where the theme was Arabian Nights. I dressed up in an Aladdin costume and put make-up on. I shouldn't have done that. I should have known better but I didn't and I'm deeply sorry."
Q: You were 29-years-old at the time. How can you explain what you did?
A: "It was a mistake. I should not have done it. I should have known not to do it and I deeply regret it. Yes, I apologise. I am disappointed."
Q: Had one of your Liberal candidates in this election race done this, would you have asked them to step down?
A: "There are people who have made mistakes in this life and you make decisions on what they actually do and did and on a case-by-case basis."
Q: Is this the only time in your life that you have ever done something like this?
A: "When I was in high school I dressed up at a talent show and sang "Day O" (a traditional Jamaican song about people loading bananas onto boats) with make-up on."
Q: If someone else had done this, would you have asked them to retract the remarks?
A: "I always fought all my life against discrimination and intolerance. I should have known at that age not to do this."
Q: When people in the United States do these sorts of things, they are asked to resign. Have you given any thought to resigning?
A: "I take responsibility for my decision to do that… it was something that I didn't think was racist at the time but now I recognise it was something racist to do. And I am deeply sorry … I have made a number of calls to friends and colleagues tonight and I will have many more calls to make."
Q: Why should you be allowed to stay on as a candidate?
A: "I am going to be asking Canadians to forgive me for what I did … it was a dumb thing to do. I'm disappointed in myself. I'm pissed off with myself for having done it."
Additional reporting by agencies
Source : The Independent