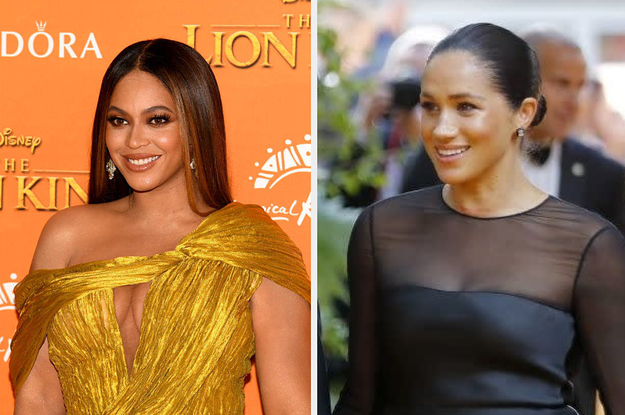 The UK premiere of Disney's The Lion King featured not one, but two women of royalty — colloquially speaking, anyway.
Meghan, Duchess of Sussex, met with none other than Beyoncé — Queen Bey as her fans have ordained her — and people are positively freaking out over the encounter.
Beyoncé, who stars as Nala in the Disney remake, has been attending multiple premieres of The Lion King as the film has rolled out in different markets around the world.
The Duchess of Sussex, meanwhile, is technically still on maternity leave after giving birth to Archie, he son with Prince Harry, in May, but she reportedly decided to attend The Lion King premiere on Sunday.
Across social media, fans were naturally excited about the meeting between the two women — particularly the hug Meghan gave Queen Bey.
The meetup between the two wildly famous women comes after Beyoncé repeatedly gave a nod to Meghan on social media over the past few months. In February, the singer posted a video with the Duchess in the background during her acceptance of a BRIT Award for Best International Group with husband Jay Z.
Beyoncé even gave a shoutout to Meghan on her official website during Black History Month, congratulating the American-born Duchess on her pregnancy.
"Meghan brought many Black traditions to her Royal Wedding including a Chicago-based Black pastor, an amazing gospel choir, and a young Black cellist," Beyoncé's website reads. "At the wedding her culture was front and center, and she and Prince Harry have continued to push the race relations dialogue forward both near and far."
Source : Google News