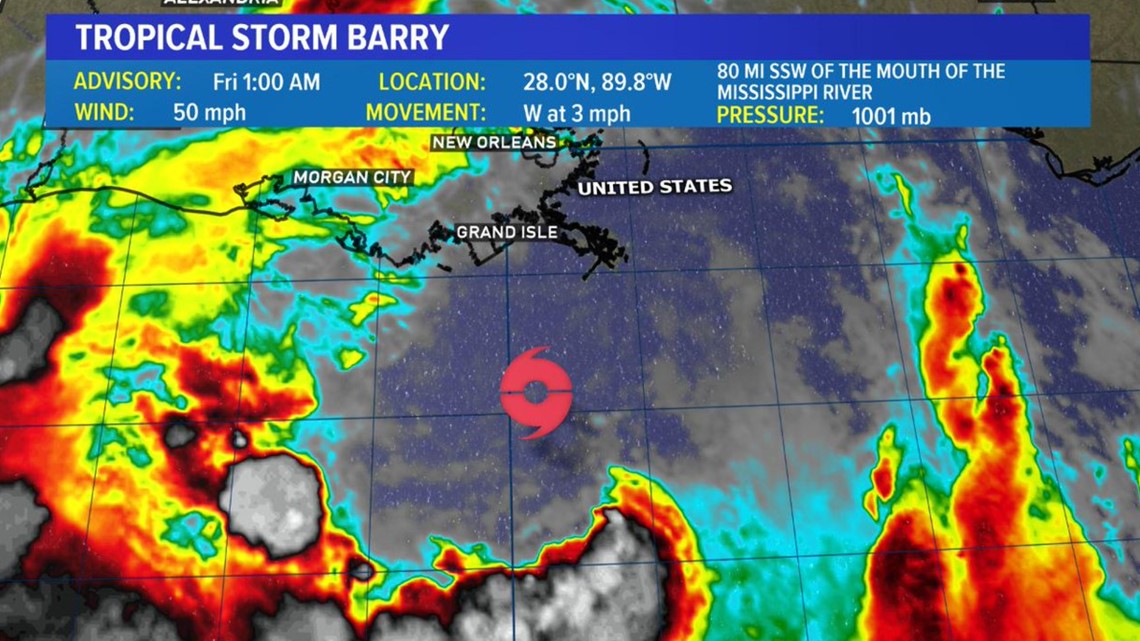 NEW ORLEANS — 4 a.m. Friday update: 
The 4 a.m. Friday advisory has been released from the National Hurricane Center. Very little new information in this advisory:
– Very little change from the 1 a.m. Thursday update 
– Barry's winds have stayed at 50 mph after increasing late Thursday night 
– Barry's west-northwest movement has increased to 5 mph 
– The center, which still is organizing and is showing signs of thunderstorms beginning to form around it, has moved more west than north. 
The strongest winds are still displaced from the center of the storm, which would need to happen when the storm intensifies.
The slow speed of the storm is no surprise – that was expected.
The next advisory coming down from the National Hurricane Center at 8 AM CDT.
Can't see the tweet? Click here 
The Latest
As of 4 a.m. Friday, Tropical Storm Barry had not strengthened further after slightly strengthening overnight with winds of 50 mph Thursday night, although those winds are not at the center of circulation, which remains very broad. 
Pressure has dropped slightly to 1000 mb and motion is nearly stationary; to the west-northwest at 5 mph. 
It's possible that Barry will remain very lop-sided up to landfall. Models continue to steadily strengthen and organize Barry prior to landfall, that just is not happening at the moment. 
The Euro model seems to be the best at initializing, with the thunderstorms currently in the southern half of the storm. The Euro doesn't bring the heaviest rain to the eastern side of Barry until just after landfall. At that point, the heaviest rain would be from Baton Rouge, westward. 
The Euro predicts 3-6" of rain over the weekend for our viewing area, with 10+ west of us. All eyes will be on when, if at all, Barry begins a turn toward the north. If soon, we are more under the heaviest rain threat. If later, like the Euro says, the heaviest rain stays farther west. Flooding is still our greatest concern at this time.
Earlier this afternoon, the National Hurricane Center issued a hurricane warning for the Louisiana coast from Intracoastal City to Grand Isle. A tropical storm warning is in effect for other areas including the New Orleans metro area.
Barry itself is showing signs of getting its act together this morning. As of 4 AM dry air is being eroded and wind shear is letting up. All that is needed to see a rapid growth in organization and strength is a period of time without wind shear and dry air for the storm to take full advantage of the warm waters. We believe that will happen today and by later on this afternoon the storm structure will look much different.
TROPICAL STORM BARRY: Path, Spaghetti Models, Live Radar
Can't see the video? Click here
Sign up for the 4 Things to Know email newsletter to get tropical weather headlines delivered to your inbox. Click here to sign up!
The slow projected movement of the storm should aid in its intensification. A longer time over water will lead to a stronger storm. We need not fixate on the storm category though – water is the headline here.
Regardless of exactly where it hits, it looks like it may move west of New Orleans. That would place the heaviest rain on the eastern side over or very close to our area. 
This is what current model forecasts are leaning toward. If this were to happen we could be dealing with rainfall totals on the order of 10-20 inches – but the European model today showed much lower projections of 3-8 inches for us with 10+ inches to our west near Baton Rouge. These numbers will change with newer data. 
On top of freshwater flooding, a dangerous storm surge threat will also be present as the storm gets ready to make landfall late Friday and Saturday. Areas likely to be affected by this will be southern and southeastern Louisiana.
Download the FREE WWL-TV News app now in the iTunes store or on Google Play for tropical weather updates through hurricane season.
2019 Atlantic Hurricane Season Forecast
The National Oceanic and Atmospheric Administration predicted 9-15 named storms for the 2019 hurricane season. It says four to eight of them will become hurricanes and two to four of those would become major hurricanes with 111 mph winds or higher.
Colorado State University, which pioneered hurricane season predictions, is forecasting 13 named storms, five to become hurricanes and two to hit major status. Hurricane researcher Phil Klotzbach predicted that overall the Atlantic season will be about three-quarters strong as a normal season.
The Atlantic basin averages 12 named storms a year, with six becoming hurricanes and three becoming major storms.
—
Stay with Eyewitness News on WWL-TV and WWLTV.com for more on this developing story. 
Source : Google News