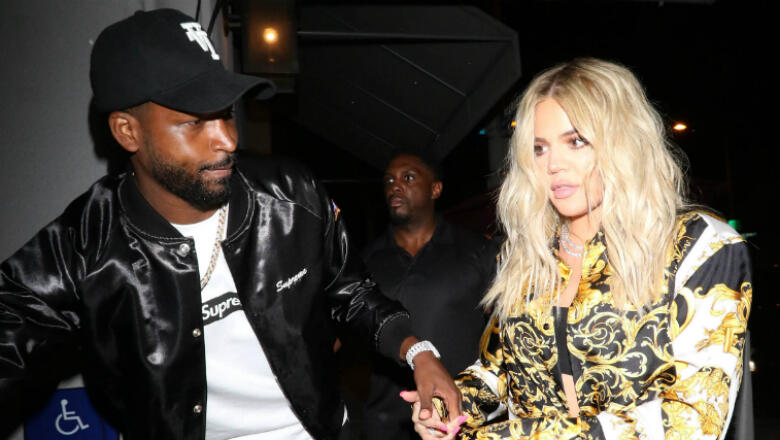 Just when you thought you'd heard the last of the Tristan Thompson — Khloe Kardashian relationship drama, new tea surfaced.
Long before Tristan and Jordyn Woods' cheating scandal was making headlines, and even before Tristan's indiscretions with other women became public knowledge days before Khloe gave birth to their daughter, there were rumors that the NBA basketball player cheated on his pregnant girlfriend Jordan Craig to be with Khloe in 2016.
While the Keeping Up With the Kardashians star has always denied the rumors, court documents from 2018 have surfaced that show Jordan claimed Khloe and Tristan's relationship caused her pregnancy complications.
According to the documents, obtained by RadarOnline, Jordan said she was living an "extravagant" life with her then-boyfriend of two-years, Tristan, when she found out she was expecting their first child in April 2016. While Jordan said Tristan said he was eager to start a family with her, a month late she found out that he had been cheating on her.
"Tristan insisted he would change for our family, and tried to get back together on numerous occasions," she said in the court papers. However, she claimed Tristan continued to cheat, and she even spotted paparazzi photos of him "with one of the women I previously confronted him about, and whom Tristan had denied even knowing." That woman she's referring to seems to be Khloe as the Good American designer and Tristan were first linked around September 2016, while Jordan was still pregnant with their son, Prince.
That's not all, Jordan additionally said that when Khloe and Tristan's "relationship went viral and everything took a turn for the worst."
"Every day several articles were published worldwide mocking my new unfortunate reality and my pregnancy would now become one of the most popular gossip headlines due to the woman Tristan was now publicly dating during my pregnancy," she continued. Adding that she was forced into bed rest due to the "stress" caused by her (by this time) ex's new public relationship. "This brought an enormous amount of negative, unwanted attention and stress into my life, and more critically, into my pregnancy," she said. "My obstetrician ordered me to be on bed rest due to high levels of stress that eventually caused me to have serious pregnancy complications."
Source : Google News