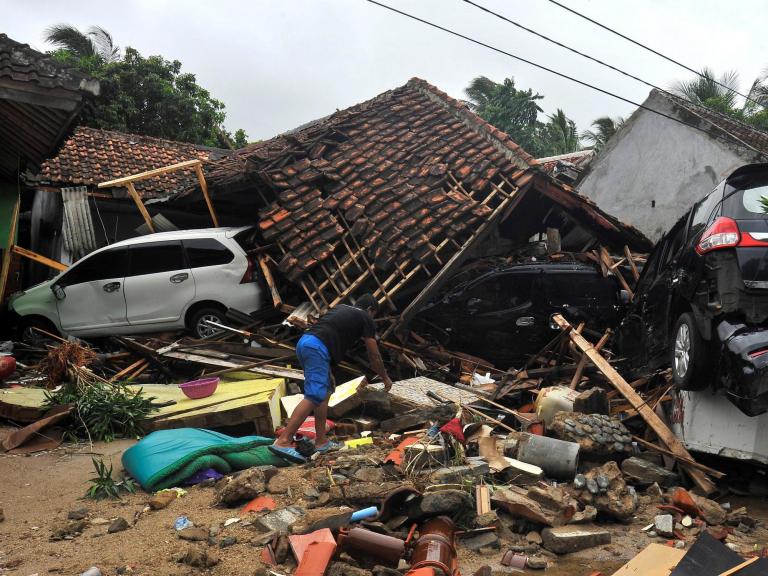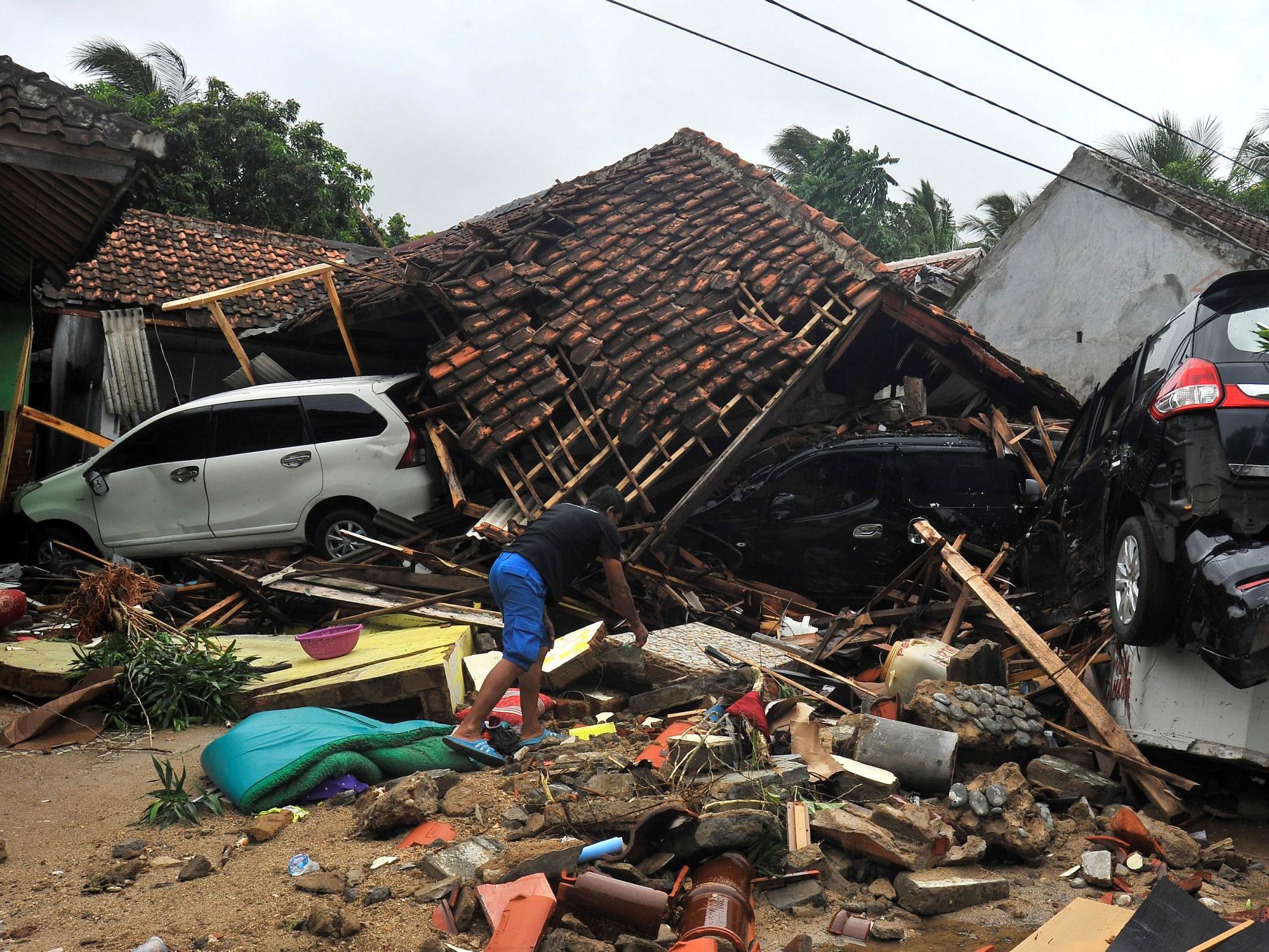 A tsunami in Indonesia has killed at least 168 people and injured hundreds, following an underwater landslide caused by the eruption of island volcano Krakatoa.
Hundreds of buildings were "heavily damaged" when the tsunami struck the Sunda Strait and the nearby islands of Java and Sumatra late on Saturday. Thousands fled after the wave hit and it is unclear how many residents are missing.
Indonesia's disaster mitigation agency said that the tsunami was exacerbated by an abnormally high tide, caused by the full moon. A tide warning remains in place through 25 December.
1/25
Debris littered a property badly damaged by a tsunami in Carita, Indonesia. The tsunami occurred after the eruption of a volcano around Indonesia's Sunda Strait during a busy holiday weekend, sending water crashing ashore and sweeping away hotels, hundreds of houses and people attending a beach concert
AP
2/25
Reuters
3/25
An aerial photo shows damaged buildings in Carita
AFP/Getty
4/25
Relatives mourn at a health facility where the bodies of tsunami victims are collected
EPA
5/25
Reuters
6/25
EPA
7/25
AFP/Getty
8/25
EPA
9/25
AP
10/25
AFP/Getty
11/25
EPA
12/25
Residents collect debris from their collapsed houses
Reuters
13/25
A local health center officer covers a dead body
Reuters
14/25
AFP/Getty
15/25
AP
16/25
AFP/Getty
17/25
An Indonesian man looks at ruined vehicles
EPA
18/25
EPA
19/25
Indonesian men walk among debris
EPA
20/25
Rescue team evacuate the body of a victim
EPA
21/25
A ruined tractor sits in the water
EPA
22/25
Survivors receive treatment at a hospital in Carita
AFP/Getty
23/25
A resident walks past damaged houses
AP
24/25
A soldier examines a local resident who was injured
Antara Foto/Reuters
25/25
Damaged cars are seen among the debris after a tsunami hit the Sunda Strait in Indonesia
EPA
1/25
Debris littered a property badly damaged by a tsunami in Carita, Indonesia. The tsunami occurred after the eruption of a volcano around Indonesia's Sunda Strait during a busy holiday weekend, sending water crashing ashore and sweeping away hotels, hundreds of houses and people attending a beach concert
AP
2/25
Reuters
3/25
An aerial photo shows damaged buildings in Carita
AFP/Getty
4/25
Relatives mourn at a health facility where the bodies of tsunami victims are collected
EPA
5/25
Reuters
6/25
EPA
7/25
AFP/Getty
8/25
EPA
9/25
AP
10/25
AFP/Getty
11/25
EPA
12/25
Residents collect debris from their collapsed houses
Reuters
13/25
A local health center officer covers a dead body
Reuters
14/25
AFP/Getty
15/25
AP
16/25
AFP/Getty
17/25
An Indonesian man looks at ruined vehicles
EPA
18/25
EPA
19/25
Indonesian men walk among debris
EPA
20/25
Rescue team evacuate the body of a victim
EPA
21/25
A ruined tractor sits in the water
EPA
22/25
Survivors receive treatment at a hospital in Carita
AFP/Getty
23/25
A resident walks past damaged houses
AP
24/25
A soldier examines a local resident who was injured
Antara Foto/Reuters
25/25
Damaged cars are seen among the debris after a tsunami hit the Sunda Strait in Indonesia
EPA
Source : The Independent